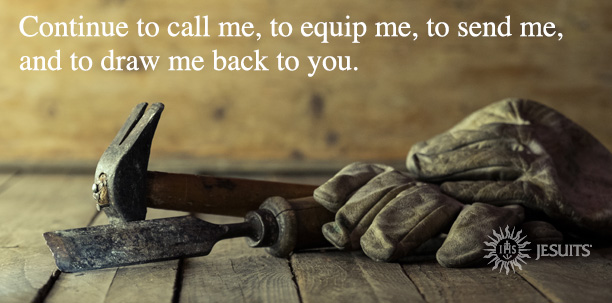 October 4, 2023
Saint Francis of Assisi
Oct 4, 2023
Luke 9: 57-62
As they were going along the road, someone said to Jesus, 'I will follow you wherever you go.' And Jesus said to him, 'Foxes have holes, and birds of the air have nests; but the Son of Man has nowhere to lay his head.' To another he said, 'Follow me.' But he said, 'Lord, first let me go and bury my father.' But Jesus said to him, 'Let the dead bury their own dead; but as for you, go and proclaim the kingdom of God.' Another said, 'I will follow you, Lord; but let me first say farewell to those at my home.' Jesus said to him, 'No one who puts a hand to the plough and looks back is fit for the kingdom of God.'
New Revised Standard Version, copyright 1989, by the National Council of the Churches of Christ in the United States of America. Used by permission. All rights reserved. USCCB approved.
Oct 4, 2023
Fully Embracing Jesus's Call
"Follow me." Today, we remember St. Francis of Assisi. As he and other saints demonstrated through their lives, it is not always easy to follow Jesus. It can be a struggle to spread the good news about the kingdom of God when we are in physical or emotional pain. It can be challenging to share the love of God with people who are filled with hate and anger. It is not easy to answer the call from Jesus, so we often set conditions and parameters as a follower. "I will follow you, Lord, but…."
Serving God and God's people as Jesus did can be difficult, but, as St. Francis and other followers of Jesus discovered, this service is rewarding and joyful in countless ways.
What thoughts or fears or activities keep us from fully embracing the call from Jesus and the joy it offers?
—Therese Marz is the director of finance and human resources at Loyola High School in Detroit and a new SIF participant.
Oct 4, 2023
Prayer
Most High, Glorious God,
enlighten the darkness of our minds.
Give us a right faith, a firm hope, and a perfect charity,
so that we may always and in all things act according to Your Holy Will. Amen.
—St. Francis of Assisi
Pray with the Pope
The Holy Father's Monthly Prayer Intentions Brought to you by Apostleship of Prayer the first Friday of each month.