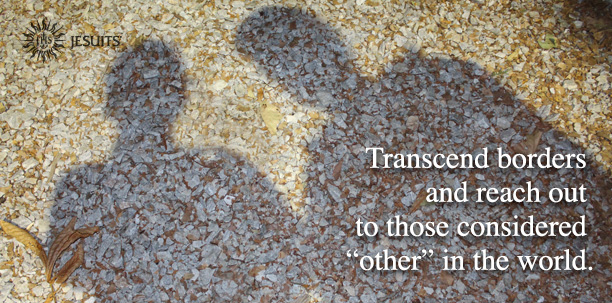 September 21, 2023
St. Matthew
Sep 21, 2023
Matthew 9: 9-13
As Jesus was walking along, he saw a man called Matthew sitting at the tax booth; and he said to him, "Follow me." And he got up and followed him. And as he sat at dinner in the house, many tax collectors and sinners came and were sitting with him and his disciples. When the Pharisees saw this, they said to his disciples, "Why does your teacher eat with tax collectors and sinners?"
But when he heard this, he said, "Those who are well have no need of a physician, but those who are sick. Go and learn what this means, 'I desire mercy, not sacrifice.' For I have come to call not the righteous but sinners."
New Revised Standard Version, copyright 1989, by the National Council of the Churches of Christ in the United States of America. Used by permission. All rights reserved. USCCB approved.
Sep 21, 2023
Who Is Welcome at Your Table?
"While he was at table in his house, many tax collectors and sinners came and sat with Jesus and his disciples. The Pharisees saw this and said to his disciples, "Why does your teacher eat with tax collectors and sinners?"
Initially, I found myself feeling a bit smug while reading this passage. It is so easy to dislike the Pharisees. Who are they to judge Jesus for eating with tax collectors and sinners? Are they not sinners as well? Surely, I would be happy to join Jesus at table with Matthew and his fellow tax collectors.
Then came a nudge from the Spirit challenging me: aren't there others with whom you would not be so willing to dine? I found myself resisting an image of Jesus sitting with those I all too easily cast as "other." We live in deeply divided times. Points of view are staunchly defended, and open dialog seems difficult, if not impossible. I know my own desire to follow Jesus's model of acceptance and mercy often goes only so far.
Today, I invite you to consider who might not be welcome at your table and to join me in praying for the grace to model the mercy and acceptance of Jesus.
—Mary Tracy is the chair of the board of the Ignatian Spirituality Project, which provides spiritual companionship for those in recovery from homelessness and addiction.
Sep 21, 2023
Prayer
Teach me to listen, O God,
To those nearest me,
My family, my friends my co-workers,
Help me to be aware that
No matter what words I hear,
The message is
"Accept the person I am. Listen to me."
Teach me to listen, my caring God,
To those far from me –
The whisper of the hopeless,
The plea of the forgotten,
The cry of the anguished.
Teach me to listen, O God my Mother,
To myself.
Help me to be less afraid
To trust the voice inside –
In the deepest part of me
Teach me to listen, Holy Spirit,
For your voice-
In busyness and in boredom,
In certainty and in doubt,
In noise and in silence.
Teach me, Lord, to listen. Amen
—Adapted from St. Ignatius of Loyola by John Veltri, SJ
Pray with the Pope
The Holy Father's Monthly Prayer Intentions Brought to you by Apostleship of Prayer the first Friday of each month.