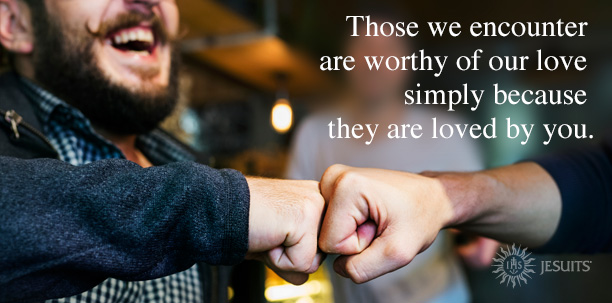 December 4, 2023
Dec 4, 2023
Matthew 8: 5-11
When Jesus entered Capernaum, a centurion came to him, appealing to him and saying, "Lord, my servant is lying at home paralyzed, in terrible distress." And he said to him, "I will come and cure him." The centurion answered, "Lord, I am not worthy to have you come under my roof; but only speak the word, and my servant will be healed. For I also am a man under authority, with soldiers under me; and I say to one, 'Go,' and he goes, and to another, 'Come,' and he comes, and to my slave, 'Do this,' and the slave does it."
When Jesus heard him, he was amazed and said to those who followed him, "Truly I tell you, in no one in Israel have I found such faith. I tell you, many will come from east and west and will eat with Abraham and Isaac and Jacob in the kingdom of heaven."
New Revised Standard Version, copyright 1989, by the National Council of the Churches of Christ in the United States of America. Used by permission. All rights reserved. USCCB approved.
Dec 4, 2023
Worthiness is Irrelevant
"I am not worthy." I find myself at some of my lowest moments praying words like: "I am not worthy of asking for help" or "I am not worthy of asking for forgiveness" or "I am not worthy of asking for healing." How often do we say to the Lord: "I am not worthy"? How often does the Lord say in reply: "I have no requirements of worthiness for the love I offer"?
In today's Gospel, we see that Jesus acts regardless of worthiness. In fact, worth does not seem to be in his vocabulary, at least not his vocabulary surrounding love. His love is outside of our human understanding. The centurion believed Jesus would heal his servant despite his unworthiness. I posit that Jesus would heal his servant regardless of worthiness.
What would it be like to take worthiness out of the equation and simply bask in the attention of the one who loves us as we are, no matter what?
—Gretchen Crowder is a campus minister and educator at Jesuit College Preparatory School of Dallas and a writer, retreat director and podcaster of the Loved As You Are: An Ignatian Podcast.
Dec 4, 2023
Prayer
Lord,
Right now, there are people
whose needs are much more
significant than my own.
Right now, there are people
who have loved You more
deeply than I have lately.
So, I stand before you
uncertain if I should bring
my needs to your attention.
Am I really worthy of Your time?
Help me, Lord, to feel the truth
I already know,
somewhere deep inside.
That You love me,
and what's more,
You cherish me.
Help me remember that
I am always welcome
to bring all of myself to you
and I will always be met
with a listening ear
and a warm embrace.
Amen
—Gretchen Crowder
Pray with the Pope
The Holy Father's Monthly Prayer Intentions Brought to you by Apostleship of Prayer the first Friday of each month.