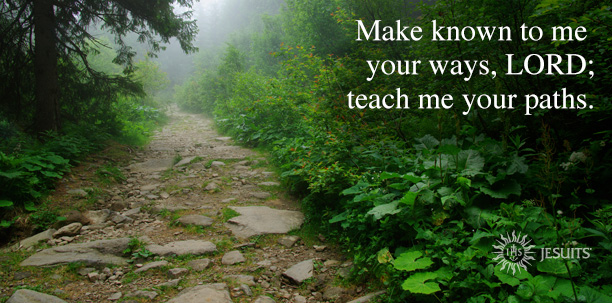 June 7, 2023
Jun 7, 2023
Psalm 25:2-3, 4-5ab, 6, 7bc, 8-9
O my God, in you I trust;
do not let me be put to shame;
do not let my enemies exult over me.
Do not let those who wait for you be put to shame;
let them be ashamed who are wantonly treacherous.
Make me to know your ways, O Lord;
teach me your paths.
Lead me in your truth, and teach me,
for you are the God of my salvation;
for you I wait all day long.
Be mindful of your mercy, O Lord, and of your steadfast love,
for they have been from of old.
Do not remember the sins of my youth or my transgressions;
according to your steadfast love remember me.
New Revised Standard Version, copyright 1989, by the National Council of the Churches of Christ in the United States of America. Used by permission. All rights reserved. USCCB approved.
Jun 7, 2023
Goodness and Love
This week's readings have returned us to what is called Ordinary Time. We have celebrated the solemnity of the Holy Trinity this past Sunday, and now look forward to observing the Body and Blood of Christ (Corpus Christi) on June 11, and then the solemnity of the Sacred Heart of Jesus on June 16. The readings for all these special feasts form the bedrock of our faith in Jesus Christ, our savior and redeemer. Today's verses from psalm 25 remind us that God's ways are "good and upright," a pathway to "faithfulness and love." Let us pray as June begins that such "goodness and love" will animate our attitudes and actions, wherever we go, however we are invited serve our loving God.
—Jesuit Prayer team at the senior Jesuit community
Jun 7, 2023
Prayer
Life-giving Jesus, may I walk with you throughout this day, sharing your life and mission with each person I meet. Amen.
—Jesuit Prayer team
Pray with the Pope
The Holy Father's Monthly Prayer Intentions Brought to you by Apostleship of Prayer the first Friday of each month.